Chameleon Application Gallery
This is an area for users to showcase their great Chameleon works! The purpose of this gallery is not only to submit links to Chameleon applications, but also to provide insight (through descriptions and/or supporting documents) as to how the applications was developed. Feel free to provide as much or as little information as you think is necessary. If you include a thumbnail it is recommended that the height is limited to 150 pixels.
---
Agro-Pedological Atlas of South Eastern Montreal Plain, Quebec
Developed by Agriculture and Agri-Food Canada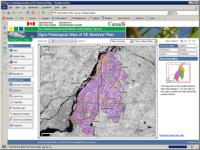 Updated by: Liz Godwin, July 20, 2006
---
Canadian Information System for the Envirnonment (CISE)
Developed by: Knowledge Integration Branch, Environment Canada
Contact: Richard Post richard.post@ec.gc.ca
URL: http://gis.ec.gc.ca/ec-cise
Description: CISE's web mapping application will allow users to interactively view and query a variety of environmentally related information ranging from air and water quality, climate and biodiversity using an easy to use map interface that simultaneously depicts road, hydrology and place name information made available through GeoConnections. All Map Data is utalized on other servers using the OGC Spec WMS. This application is essentially a client request application to the WMS.
Posted originally May 17,2004
---
Hawaii Chameleon Demo
Developed by: DM Solutions Group Inc.
Contact: Chameleon Mailing List chameleon@lists.maptools.org
URL: http://www.mapsherpa.com/hawaii2/
Description: The Chameleon Hawaii Demo was one of the first application for Chameleon. The concept of the application is self explanatory. Using Hawaii Tiger data a MapServer local mapfile was developed to show tourist points of interests across the Hawaiian Islands. This application also shows several different widgets eg. XMLLegendTemplate, MapSize, QuickZoom, ScaleBar, KeyMap and other Navigational Widgets.
---
Whistler Community Map Browser
Developed by: Community Habitat Resources Project
Contact: Tracy Howlett thowlett@whistlermuseum.org
URL: http://www.chirpwhistler.info/Mapping/CHiRP.phtml
Description: Allows you to view the different types of natural heritage information that has already been gathered by environmental community groups and the Municipality of Whistler.
Posted originally May 19, 2004
---
Australian Web Mapping Demo
Developed by: Maunsell Australia, Perth
Contact: Jacob Delfos at gis@maunsell.com
URL: http://geo.maunsell.com/chameleondemo/index.phtml
Description: Provides an overview of the bathymetry and topography of Australia, by means of a hillshaded DEM and Landsat imagery. Includes names of localities and mines, which can be searched using the "LocateByAttribute" widget that Maunsell developed.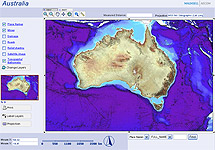 Created by: admin last modification: Thursday 27 of July, 2006 [13:33:02 UTC] by liz